15 - 20 FEB 2022

Changi Exhibition Centre, Singapore
Home
Home
> The Show > Important Notes for Visitors
Important Notes for Visitors
TRAFFIC ARRANGEMENTS
To facilitate the smooth running of the Airshow, various traffic arrangements will be in place prior and during Singapore Airshow 2020.
Road Closures
ROAD CLOSURES
The following roads in the vicinity of Changi Exhibition Centre (CEC) will be closed to the public* during the times stated in the table below:
Changi Coast Road (Starting from after Changi Ferry Terminal and ending at Aviation Park Road)


Aviation Park Road


Tanah Merah Coast Road (Between Aviation Park Road and Tanah Merah Coast Road (minor) / Changi Naval Base)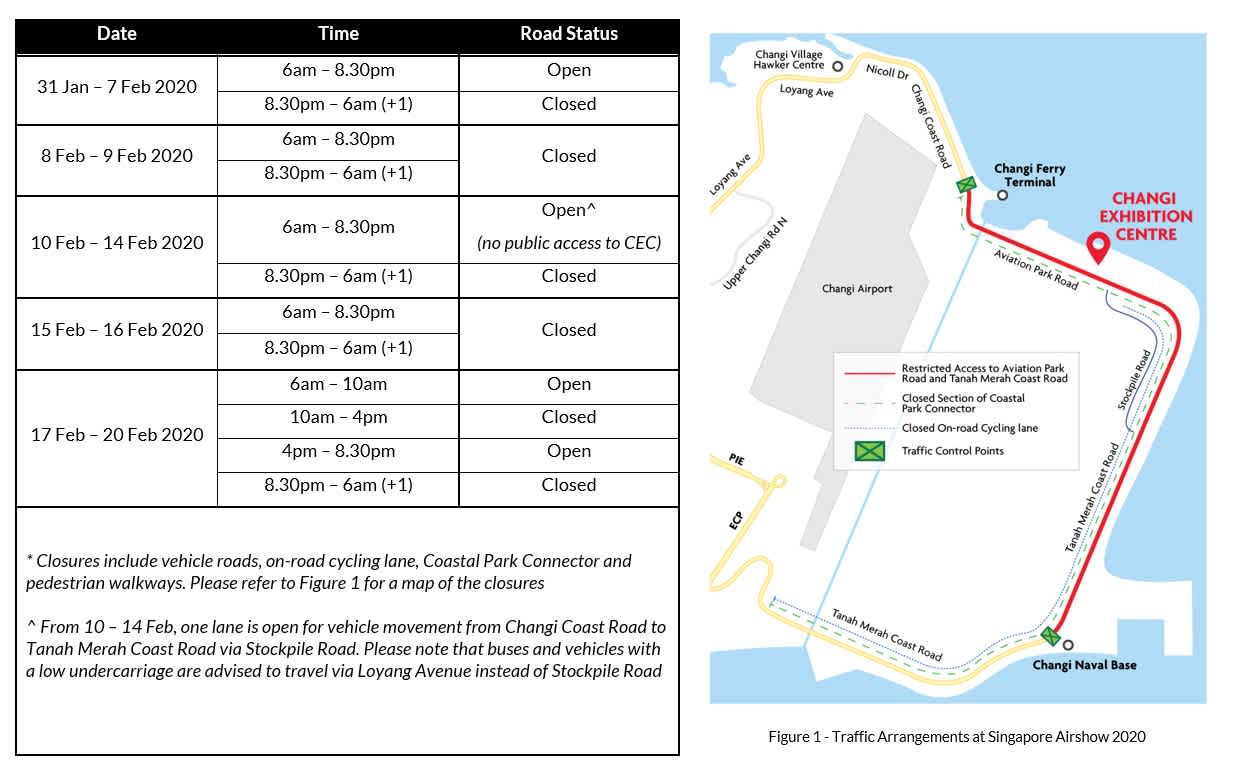 To find out how to get to Changi Exhibition Centre during show days, click
here
.
Bus Diversion
BUS SERVICE 35 ROUTE DIVERSION AND COMPLIMENTARY SHUTTLE BUS SERVICES
Bus service 35 will ply a truncated loop between Bedok Interchange and Tanah Merah Coast Road due to the road closures from 8 – 19 February 2020, looping back after the final stop at Changi Naval Base (Bus Stop #96439). It will not be plying Changi Coast Road and Airport Logistics Park of Singapore (ALPS). However, a complimentary shuttle service will operate between ALPS and Changi Village during this period at intervals of 10 – 15 minutes:

Bus service 35 will not be making stops at these bus stops:

During this period of bus service diversion, complimentary shuttle bus services will be provided, plying these stops:
To find out how to get to Changi Exhibition Centre during show days, click
here
.

LIST OF PROHIBITED ITEMS
1. Air horns/Noise Makers

2. Air Pistol/Rifle or parts

3. Antique Pistol/Gun

4. Any sharp items that can be used as a weapon

5. Balloons, balls, inflatable balls, Frisbees or flying disks

6. Baton/T-baton

7. Bearing Scrapper

8. Bullet Proof Vest

9. Canned items

10. Cross Bow

11. Drones

12. Explosive/Blasting Cap/Dynamite/Corrosive Substance

13. Fireworks/Crackers

14. Firearms/Parts of Firearms, including empty magazines and spent cartridge (with percussion cap attached) etc

15. Handcuff

16. Helium Balloons

17. Industrial Acid

18. Illegal or illicit substance, drugs or drug paraphernalia

19. Key Chain (Bullet/Gun/Sword/Knife)

20. Kite

21. Kirpan

22. Knuckle Duster

23. Large chains, Chained Mallets or Spiked Jewellery

24. Laser pens, laser pointers or similar focused light devices

25. Lighter in Gun, Pistol, Bullet, Grenade Shape

26. Live Bullet/blanks

27. Night Stick

28. Nunchaku

29. Parang/Machete

30. Personal Mobility Devices (Bicycles, Booster Boards, Scooters, Skateboards, Unicycles, etc.)

31. Selfie sticks, poles or totems

32. Signal Flare and other flammable materials

33. Sky Lantern

34. Spear Gun

35. Spray Paint

36. Stun Gun

37. Tear-Gas Spray/Pepper Spray

38. Toy Gun which resemble actual gun

39. Walking Stick with Dagger

40. Water Guns & Squirt guns

41. Wooden/Metal Spear


The organiser will have the final say on items not listed above. The decision is final and absolute.
Any person who attends the Singapore Airshow 2020 grants permission to Experia Events, its employees and agents to record his or her visual/audio images, including, but not limited to, photographs, digital images, voices, sound or video recordings, audio clips, or accompanying written descriptions, and, without notifying such person, to use his or her name and such images for any purpose of Singapore Airshow, including advertisements for Singapore Airshow and its programs.
If you would like to withdraw the use of your visual/audio images, please write in to
marketing2020@singaporeairshow.com
and provide a reference to where such usage is made so that the necessary actions may be taken.